We wish you all a great summer!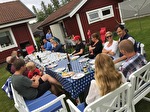 After an incredible first half year we wish all staff a great summer with a well-deserved vacation, we look forward to see you all again Monday 7th of August. Of course we wish the same to all our fantastic customers and suppliers.
Even if ILS close the lift production, we stay open for quotations, orders and support the whole summer.