ILS welcomes a new team member!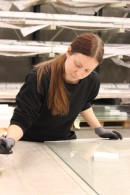 Innovation Lift Scandinavia AB (ILS) welcomes Sandra Nordlinder, who will after a trainee period start to work here at ILS. Sandra will join our production unit here in Degerfors, Sweden, and she will of course be important for our commitment to become a significant and reliable supplier of platform lifts.

Welcome to the team Sandra!