Innovation Lift Scandinavia AB (ILS) is a Swedish company that designs and manufactures high quality platform lifts, which are sold through a global network of distributors. We have over 40 years of experience in design, manufacturing and service.

We are confident that we can help you in creating a smoother day to day life by providing the right quality platform lifts and the innovative solutions that you need.

A lift from ILS is an investement for an easier and more comfortable everyday life, for a new standard of innovation and quality.

We can, we do and we do it smarter!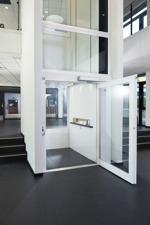 Are you searching for a manufacturer of high quality vertical platform lifts? Take a look at Innovation Lift Scandinavia AB (ILS). Our lifts have corner and glass profiles in aluminium, great and flexible design, both to look at and to install in a quick and safe way. Also smart design for the screw and nut system that gives you a fantastic smooth ride, and as that was not enough we always deliver our lifts with frequency converter for soft start and soft stop as standard.

And due to our flexible design we also have a great amount of different platform sizes to choose from, ILS 05K (500 kg) have 30 different sizes, ILS 1K (1000 kg) have 55 different sizes, so with 85 different sizes we most probably have something that fits. For more information and possible options visit www.ilifts.se or our Facebook page, or call +46 (0)70 49 22 715.

We can, We do and we do it smarter!
Läs hela inlägget »
After a great cooperation from day one Innovation Lift Scandinavia AB welcomes the company WeldCut AB, who has started to move in under the same roof as us. WeldCut AB will be our number one supplier (partner) of ingoing steel material to our first class platform lifts.

The first machine in for WeldCut´s investment in Degerfors was a 200 tons bending machine from Weinbrenner, installed and in production April this year.
And now, machine number 2 is installed, it's a Laser Cutting machine from Bystronic, Byspeed 3015.
This will be a fantastic start for WeldCut here in Degerfors and in their investment for growth.
But it's also important for Innovation Lift Scandinavia AB with a partner like WeldCut for quick and reliable deliveries with highest quality, as we are under a fantastic increase of orders and new customers.
Welcome WeldCut!
Läs hela inlägget »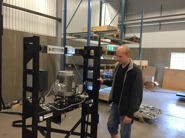 As we see a continued increase in sales, Innovation Lift Scandinavia AB (ILS) welcomes Per Hansson, who will start to work here at ILS 3rd of August. Per will join our production unit here in Degerfors, Sweden. Per has a wide knowledge and experience in installation and manufacturing processes together with a wide electrical knowledge. That's some of many reasons why he will be important for our commitment to become a significant and reliable supplier of platform lifts, again a big welcome to the team Per!
Läs hela inlägget »