Innovation Lift Scandinavia AB (ILS) is a Swedish company that designs and manufactures high quality platform lifts, which are sold through a global network of distributors. We have over 40 years of experience in design, manufacturing and service.

We are confident that we can help you in creating a smoother day to day life by providing the right quality platform lifts and the innovative solutions that you need.

A lift from ILS is an investement for an easier and more comfortable everyday life, for a new standard of innovation and quality.

We can, we do and we do it smarter!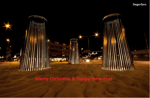 Now when we soon enter Christmas, and get closer to a New Year, Innovation Lift Scandinavia AB would like to thank all customers and all potential customers, also all our suppliers for the fantastic second year that we have had at ILS AB.
We are really proud and happy for the fantastic response and increase in volume we have seen in our products. This do that we look forward to 2016 with great confidence.
Thank you all and Merry Christmas and a Happy New Year to all of you from all of us at ILS AB.
Läs hela inlägget »