Innovation Lift Scandinavia AB (ILS) is a Swedish company that designs and manufactures high quality platform lifts, which are sold through a global network of distributors. We have over 40 years of experience in design, manufacturing and service.

We are confident that we can help you in creating a smoother day to day life by providing the right quality platform lifts and the innovative solutions that you need.

A lift from ILS is an investement for an easier and more comfortable everyday life, for a new standard of innovation and quality.

We can, we do and we do it smarter!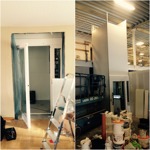 This week, we had most of our workforce out for assembly of 2 ILS 05K, it gives a great opportunity and understanding for all of us at ILS what our distributors / partners meet every week at assembly location, it also provides experience of what important job it is that they perform on all the ingoing parts, so that in the end can be a lift with the high quality that we all want.

The first image is an installation of a domestic lift in Karlstad, the other image of an installation in Grums. Well done to all involved!!

Now we wish all our staff a great summer with a well deserved 3 weeks vacation, of course we wish the same to all our fantastic customers and suppliers.
Läs hela inlägget »