Innovation Lift Scandinavia AB (ILS) is a Swedish company that designs and manufactures high quality platform lifts, which are sold through a global network of distributors. We have over 40 years of experience in design, manufacturing and service.

We are confident that we can help you in creating a smoother day to day life by providing the right quality platform lifts and the innovative solutions that you need.

A lift from ILS is an investement for an easier and more comfortable everyday life, for a new standard of innovation and quality.

We can, we do and we do it smarter!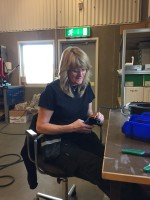 Innovation Lift Scandinavia AB (ILS) welcomes Lisbet Söderlund, who today start to work here at ILS AB. Lisbet will join our production unit here in Degerfors, Sweden, and she will be important for our continued commitment to become a significant and reliable supplier of platform lifts.

Welcome to the team Lisbet!
Läs hela inlägget »